Bonus harian di Keluaran HK 2020 – 2021.
World Health Organization head Tedros Adhanom Ghebreyesus has issued a message of support to the beleaguered Tokyo Olympics, tweeting:
Glad to be in #Japan to address the International Olympics Committee. I've come with a simple but urgent message: we can defeat Covid-19, but only if everyone plays their part. May these Tokyo 2020 Olympics be a source of hope & unity to achieve vaccine equity and end the pandemic.
Taiwan's Medigen Vaccine Biologics Corp said on Tuesday it will start a late-stage clinical trial this year in Paraguay for its Covid vaccine, part of the island's push to make its own shots against the coronavirus.
Taiwan's government on Monday approved the emergency use and production of Medigen's vaccine despite criticism from opposition parties the vaccine has yet to finish final clinical trials and with no efficacy data available.
Health authorities in Paraguay have allowed Medigen to run the Phase III trial involving 1,000 volunteers for the shot, MVC-COV1901, the Taiwan-based company said in a filing to the stock exchange.
Medigen said the trial is scheduled to complete in the third quarter and data would be available in the fourth quarter, adding the move will help expand the company's footprint in Central and South America.
Paraguay is one of only 15 countries still to maintain formal diplomatic ties with Taiwan.
In Senegal, Covid cases have soared in the past week, threatening to overwhelm health services just as Senegalese prepare to gather in extended families for Eid al-Adha.
President Macky Sall threatened on Friday to close borders and impose a new state of emergency after the country broke its daily case record three times in a single week.
The day after Sall's declaration, that record doubled to over 1,350. Supply shortages mean the virus could have ample room to run. Just over 600,000 doses of vaccine have been administered to a population of around 16 million people.
Not everyone in Dakar had heeded the warnings, report Reuters. Parking lots and street corners were lined yesterday with buses heading out of town, their roofs loaded with luggage and sacrificial sheep. Inside, few passengers wore masks.
Some people scoffed at the idea that the risk of Covid could trump a holy event. Others were more measured, yet steadfast in their desire to travel.
"After staying so long without seeing your family members, your mother or your children, even if the Covid situation is complicated, you close your eyes and go," said Alhassane Sow
In contrast, Reuters spoek to Pape Gueye, who had made the difficult decision to spend the first Eid al-Adha of his life apart from his 88-year-old mother.
"I know a lot of people who had it," said Gueye, 43, mixing a cup of green tea as he sat with masked friends in front of his flat in the capital, Dakar. "Some of them got through it, and some of them died," he said. "After what I felt and the people around me who had it, I will stay at home."
Russia reported 23,770 new Covid cases, including 3,188 in Moscow, pushing the total official number of cases confirmed during the pandemic to 6,006,536.
Reuters notes that the government also reported 784 coronavirus-related deaths, including 101 in Moscow.
Andrew Sparrow has launched our UK live blog, and he is leading with this shift in UK government messaging to stress that people "pinged" by the NHS Covid app can choose whether to self-isolate or not.
I'll be continuing with the leading global coronavirus news here.
Alexandra Villarreal this morning has a series of interviews with young people about what they've lost with a year or more of Covid restrictions:
Covid-19's uncontrollable arc has been a nightmare scenario for Liz Siegfried, a college student at the University of Vermont who knows she's much better at taking care of others than she is herself.
Since March last year, she's sacrificed a job at a local grocery store; worried about losing friends from a distance; and at times become a shut-in, too anxious or afraid to attend in-person events or classes.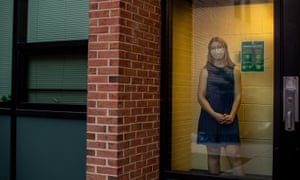 "It was punch to the gut," she says, talking about the pandemic. "My world was crashing down. It was fear of everything – fear of touching things, fear of seeing people. The thoughts spiraled."
Although she wasn't a germaphobe before, the health crisis made her one. At some point, she stopped touching doors and started dousing her phone in hand sanitizer. She wiped down her car often, and became concerned that surfaces as seemingly benign as a coin could carry disease.
Read more of Alexandra Villarreal's interviews here: 'I wanted more memories': young people reflect on a year lost to Covid
Here's the latest numbers from the UK government's own Covid dashboard from 19 July by the way:
There were 742 new patients admitted, taking the total number of people in hospital with Covid to 4,049, with 573 on ventilators. That's a 39.5% week-on-week rise in hospitalisations.
There were 39,950 new case on 19 July. That's a 41.2% week-on-week rise.
There were 19 deaths which takes us to a week-on-week rise of 48%.
There's going to be an update later today from Scotland's first minister, Nicola Sturgeon.
The Philippine president, Rodrigo Duterte, has warned tighter restrictions may be needed to prevent the spread of the Delta variant across the country, after the first local cases were detected last week. "This is more vicious. It's more aggressive and fatal," Duterte said during a television address, the Philippine Daily Inquirer reported.
In Metro Manila, the Philippines' national capital region, mayors are calling for restrictions on the movement of children to be reintroduced, preventing them from going to many public places. Children aged five and over were previously banned from spaces such as outdoor dining establishments, tourist sites and playgrounds, though these rules were relaxed earlier in July. Two of 11 local Delta cases were detected in Metro Manila, it was announced on Friday.
The Philippines previously had one of the world's toughest lockdowns, which was at times brutally enforced by the police, military and local officials. People were put in dog cages, forced to sit in the sun for hours, and placed in coffins as punishment for breaking curfew rules.
The Delta strain has caused recent surges in cases across south-east Asia, including Indonesia, where hospitals are overwhelmed and reporting shortages of oxygen. The Philippines has banned all arrivals from Indonesia, and is reportedly also considering stopping travel from Thailand and Malaysia, which are also facing rising cases.
Health undersecretary Maria Rosario Vergeire told local media the country has enough oxygen for now, but that the government was talking to manufacturers to increase supplies.
The Philippines experienced its worst outbreak around mid-April, when it recorded between 10,000 or 11,000 on average per day. On Monday, the country reported 5,651 cases and 72 fatalities.
Steve Swinford at the Times is claiming as an exclusive the news that the government has written to large employers telling them instructions to self-isolate from the NHS Covid app are just advisory, not mandatory.
That backs up what felt like a shift of tone and emphasis from small business minister Paul Scully earlier this morning [see 7.59am].
There was a bit of pushback on this approach in certain situations on the radio earlier from Prof Sir Jonathan Montgomery, who chaired the ethics advisory board for NHSx on its contact tracing app. PA Media reports he told Times Radio:
When we had no protection the risk was the same for everybody. If that risk is now reduced because someone is double vaccinated it feels as though we need more sophisticated advice.

If we are visiting an elderly relative or a cancer patient then take the ping seriously but, if you are doing something relatively Covid-friendly then maybe make a different decision.

The government needs to do more to help us make better decisions.
EasyJet is to ramp up the number of flights it operates to 60% of pre-pandemic levels during the summer holiday season, and has added new routes including Malta in response to rising customer demand.
The low cost airline will operate up to 1,400 flights a day between July and September. On Monday, it ran 1,000 flights.
EasyJet operated 17% flights compared with the same period in 2019 in the three months to 30 June (a total of 24,682), slightly less than planned, and carried 3 million passengers. It made revenues of £212m, up from £7.2m a year earlier when its fleet was fully grounded for all but two weeks of the quarter. Its loss before tax fell by 8.2% to £318m.
EasyJet said customers are booking much closer to departure, with 49% of its summer flights booked, compared with 65% in 2019. After the UK announced the waiving of the quarantine requirement for fully vaccinated passengers returning from amber list countries on 8 July, bookings surged by 400% on the previous week.
When Malta and Madeira were added to the UK's green list of countries that do not require travellers to quarantine upon their return, easyJet put 60,000 additional seats on sale and launched two new routes, from Bristol and Luton to Malta.
Read more of Julia Kollewe's report here: EasyJet increases flights to 60% of pre-Covid levels
Here's our Hannah Ellis-Petersen in Delhi, who has just filed her latest despatch on the situation in India and that report of a huge number of uncounted Covid deaths:
State governments and local administrations across India have been accused of purposefully undercounting Covid-19 deaths, while the stigma attached to the virus also prevented many people getting tested, so many deaths also went unrecorded as Covid-19 fatalities. Following public pressure and calls for accountability, several Indian states have recently revised their Covid-19 mortality figures, leading to a sharp increase in the official death toll.
In order to draw together a more accurate picture than that reflected in official figures, the researchers used three data sources: data from the civil registration system that records births and deaths across seven states, blood tests showing the prevalence of the virus in India alongside global Covid-19 fatality rates, and an economic survey of nearly 900,000 people done three times a year.
The conclusions drawn from comparing the data undermine India's claim to have one of the world's lowest deaths per capita. Using official statistics, India's per capita death rathe is 0.3, compared with 2 for countries such as the UK, US and Brazil, where infection rates are lower. "This shows that India was not an outlier when it came to Covid mortality," Arvind Subramanian, one of the authors of the report, said.
Subramanian emphasised that all three data sources used in the report have "merits and shortcomings", but said they all depicted a relatively similar pattern for excess deaths. He also emphasised that the data sources only went up to May, so the full impact of the second wave that has continued into June and July would not be reflected.
"Knowing the true death toll of the pandemic is important for so many reasons," Subramanian said. "How can we have a basic understanding of the impact of Covid without knowing how many people died and where they died? Accurate data is the only way we can prepare a fully fledged response to the pandemic in the future."
Read more of Hannah Ellis-Petersen's report here: India's excess deaths during Covid 'could be 10 times official toll'
South Korea's prime minister and defence minister apologised as hundreds of Covid-infected sailors were flown to Seoul on Tuesday after a navy destroyer patrolling the waters off Africa was found to be riddled with the virus.
Almost 250 of the 301-strong unvaccinated crew aboard the destroyer Munmu the Great were infected, the country's biggest cluster of military cases, sparking a public furore at the government's failure to protect those serving abroad.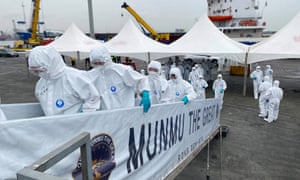 "I apologise for having failed to take better care of the health of our soldiers who devoted themselves to the country," the prime minister, Kim Boo-kyum, told an intra-agency Covid meeting as he promised treatment and recovery support for the crew, which includes 12 in critical condition.
The defence minister, Suh Wook, apologised for not immunising the crew before they departed for the Gulf of Aden in early February on an eight-month counter-piracy mission, and said he would examine anti-virus policies for all overseas military units.
UK opposition Labour MP Pat McFadden has been on Sky News to give his reaction to last night's domestic vaccine passport announcement by the government and he was pretty scathing:
What strikes me most of all over the last 24 hours is the panic and confusion that this shows on the part of the government. We've known about this reopening day, which they built up as freedom day for weeks and weeks – in fact, it was delayed for weeks. So they've had an awful lot of time to produce a proposal. Now we have one, and we don't know its relationship with testing, when we've only got just over two thirds of the population vaccinated. We don't if this is nightclubs, we don't know if this is sports venues, so we're going to have to look at the proposal. One word which strikes me over the last 24 hours is chaos. The chaos that the government has injected into its own day of reopening which they christened 'freedom day'.
Kay Burley then spent some time trying to get McFadden to outline where or when Labour would apply vaccine passports, which seemed a rather fruitless line of questioning, as it hasn't been a Labour policy. McFadden said vaccine passports might have a role to play in conjunction with testing in the future.
Travel restrictions have also featured in the UK media round this morning. Asked on Sky News whether Spain was going to be added to the amber watchlist of travel restrictions, business minister Paul Scully said the decisions were "taken at cabinet level".
PA Media quotes him saying: "They'll look at the data, and they'll make sure that they can work out what is best to make sure that we keep transmission of the virus low, we keep the transmission of the variants low, because it's the variants that are really key here to work out how they're interacting with our vaccine programme."
Asked whether rates being higher in Spain than in France, where those returning from the country are no longer exempt from quarantine, pointed to Spain being added to the amber list, Scully said: "It's not just about … we try and give people as much data as we can but it's not just about the pure numbers.
"It's also about the variants, and the style of variants, the Beta variant, for example, that's quite prevalent in France at the moment, we're looking at how that interacts with the AstraZeneca vaccine.
"And so it's … there's a lot of factors that are involved in the decisions that are taken around travel."
While it has always been true that the NHS Covid app telling you to self-isolate wasn't legally mandatory, UK small business minister Paul Scully seems to have shifted government messaging slightly this morning, saying it is just a helpful suggestion to people.
Scully said that being "pinged" by the Covid app would "allow you to make informed decisions" but self-isolating was "up to individuals and employers".
PA Media reports he told Times Radio:
Well, I think the exemption is being extended beyond the NHS to critical workers. So critical infrastructure and these kind of things. We've seen the Metropolitan line in London close, for example, because of a handful of really crucial signal workers having to self-isolate. So it's those kind of things that we're extending to.

It's important to understand the rules. You have to legally isolate if you are on the … contacted by test and trace, or if you're trying to claim isolation payments.

The app is there to give … to allow you to make informed decisions. And I think by backing out of mandating a lot of things, we're encouraging people to really get the data in their own hands to be able to make decisions on what's best for them, whether they're employer or an employee.
Asked whether this meant people should or should not self-isolate if 'pinged', he said: "We want to encourage people to still use the app to be able to do the right thing, because we estimate it saves around 8,000 lives."
Again it is quite conflicting advice, because, for example, if you are using your personal judgment as to whether it is safe to visit a business or not, it isn't your personal judgment as to whether you will be served by staff who have been told to self-isolate and aren't because they've made, in Scully's words, "decisions on what's best for them".
Twitter says it has temporarily suspended Republican US Rep Marjorie Taylor Greene's account for tweets which violated the social media's misinformation policy on Covid.
Greene posted that the coronavirus is not dangerous for non-obese people and those under 65, and that organizations should not force "non-FDA" approved vaccines or masks. These tweets have been labeled as "misleading" by the platform.
The US uses Pfizer, Moderna and Johnson & Johnson vaccines under an Food and Drug Administration's emergency use authorization. President Joe Biden has recently called on the social media companies to take action on vaccine misinformation.
Reuters remind us that in June she was forced to apologise after comparing Covid mask requirements and vaccinations to the Holocaust that killed 6 million Jews.
The number of new cases, hospitalizations and deaths in the US due to Covid-19 have been rising in recent days, largely driven by outbreaks in parts of the country with low vaccination rates.