Jackpot hari ini Result HK 2020 – 2021.
In an interview on the Today programme this morning Nick Thomas-Symonds, the shadow home secretary, said that Labour should respond to the election results by accelerating the pace of change. He said there should be a "root and branch policy review" so Labour could have a "bold, credible offer" at the next election.
Asked if this meant ditching the Corbynite policies that Sir Keir Starmer promised to keep when he was running for leader, Thomas-Symonds replied:
No, I think that's not the analysis I would use.

There are things that were in previous manifestos will always be Labour manifestos; for example, reform of social care which this government is notably failing on, which is a huge challenge.

Secondly, something like addressing climate change, the great challenge of our age.

It is not so easy as to just say you ditch this manifesto or that manifesto. It is accepting that the pandemic has made this dramatic change to our politics. We have to then reimagine that economy, post pandemic.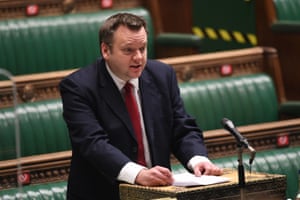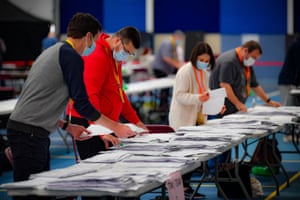 English council election results have started coming in again this morning, after counting stopped overnight. Within the last few minutes we have had confirmation that the Conservatives have held Rushmoor and Reigate & Banstead. You can follow the results on our tracker here.
The most striking headline from the papers (see 10.02am) perhaps is the one on the Times' splash (paywall) saying Boris Johnson is "preparing for a decade-long premiership after a series of historic victories in Labour's former heartlands". The story quotes unnamed cabinet ministers saying Johnson's premiership could last even longer than Margaret Thatcher's 11 years. It says:
Cabinet ministers suggested that Johnson could become one of Britain's longest-serving prime ministers. One said: "It seems to me to be more than just a short-term rejection of Labour. It looks fairly permanent."

Another said: "Labour haven't represented working-class patriotic voters for a while. They're too woke, too Islington metropolitan elite. They're becoming a London party. Boris is a unique politician. If he wants he could do what Thatcher did and then some."

A third cabinet minister said that only an "idiot" would challenge Johnson, adding: "It's really important that the Conservatives win the culture wars and don't ignore them."
These cabinet ministers may be right. But it is worth remembering that political majorities can evaporate very quickly. Four years ago the Conservatives won a big victory in the local elections. They were 11 points ahead of Labour in terms of national share of the vote, which was remarkable for a party that had been in government for seven years. But a month later, in the general election, they were just two points ahead of Labour and May lost her majority.
Dominic Cummings, Boris Johnson's former chief adviser, made this point at the end of a long Twitter thread yesterday, suggesting it's a mistake to assume outcomes are inevitable.
Here is a selection of newspaper front pages this morning showing how the papers are interpreting yesterday's results.
On the Today programme this morning Prof Sir John Curtice, the elections specialist, said there was clear evidence of tactical voting in Scotland by opponents of independence. He said:
Despite the claims of the unionist parties that voters were much more concerned about the pandemic, actually what these results reveal is the extent to which voters were concerned about the constitutional question.

One way in which that was realised was the extent of tactical voting. Particularly in those seats that both Conservatives and Labour were defending, there is pretty clear evidence that where the Conservatives have been lying third, they switched to Labour, and where Labour was lying third, they switched towards the Conservatives.

It's also reviewed, of course in the high turnout. This is going to be a record high turnout for a Scottish parliament election.

So, whatever else we take away from this election, I think we have to take away, first, that Scotland really is … concerned about the constitutional question. And secondly, probably when all the votes are counted, it's going to underline that this country is pretty much evenly divided between supporters of independence and supporters the union, much as the opinion polls have been telling us for quite a while.
Murdo Fraser, the Scottish Conservative's finance spokesman, told the BBC's Good Morning Scotland this morning that his party had been affected by people voting tactically for other pro-union parties. But he said he was confident the Conservatives would retain their place as the second largest party in the parliament. He said:
The early indications are that we have polled very strongly in terms of the regional vote and I would expect that will mean we will come back very close to where we were in 2016 in terms of the number of seats, maybe slightly down, maybe slightly up …

Our regional list vote may well even be up on where it was in 2016, and that should translate into seats.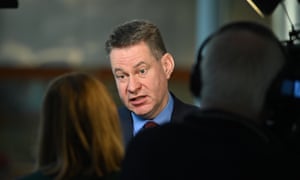 Counting has started again in the Scottish parliament election, PA Media reports. PA says:
With 47 constituency results declared on Friday, the SNP had 38 seats, Liberal Democrats four, Conservatives three and Labour two.

Some constituencies are still to be counted on Saturday, when the crucial regional list results will also be declared.
Last week, when the Conservative MP Sir David Amess found out that he was quoted on a Tory election leaflet saying the government was more likely to "go that extra mile" for an area with a Tory council than an opposition-led one, he insisted that the quote had been issued without his approval. No 10 also firmly denied the claim that the government discriminated against areas that did not vote Conservative.
But this morning George Eustice, the environment secretary, may have revived suspicions that some sort of favouritism does apply. In an interview on the Today programme, it was put to him that people may have been voting for Conservative councillors because they that a Tory authority would be more likely to get money out of the government. Asked if that was true, Eustice replied:
It is the case that if you've got a Conservative council – and in Cornwall where I come from we've they have now just elected a Conservative council – where you've got Conservative MPs and the Conservative government and a council, it is much easier for them to work together in partnership in a constructive way. So, yes, that's a factor.
When it was put him that that sounded like a 'Vote Tory or lose out' threat, Eustice replied:
No, no, no, it's not a threat at all. When it comes to things like funding decisions, these are all done based on objective criteria, and of course governments work with councils and devolved administrations whatever their political composition.

But I think people locally may take the view that it's good for people to work together in partnership, and at times like this, as we deal with a pandemic, having a local authority that works constructively with government to find a way out of it, well that's a positive thing.
It is not hard to see why people might think the government favours Conservative administrations. At the time of the budget, decisions about allocating money through the towns fund and through the levelling up fund were seen as biased in favour of Tory constituencies.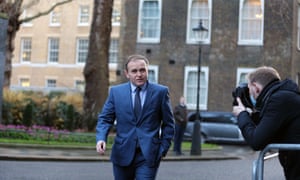 Here are the key quotes from John Swinney's interview on the Today programme.
Swinney, Scotland's deputy first minister, said that it would be "very, very challenging" for the SNP to get an overall majority. He said he did not know yet whether it would be possible, but it would be "incredibly close", he said.
He rejected claims that the SNP needed an absolute majority to have a mandate to hold a second independence referendum. Asked if he accepted that, with an absolute majority, the SNP would not have a democratic mandate for another referendum, Swinney replied:
I don't accept that proposition because I think what that question comes down to is what's the composition of the Scottish parliament, and who tried to get elected to it. And I'm very confident of two things.

One, that the SNP will be the leading party after the elections. It is very clear that's going to be the case.

And secondly, I'm certain there will be a majority in the Scottish parliament of people who are committed to the holding of an independence referendum on the future of Scotland.
Swinney rejected the suggestion that Scottish Green MSPs did not count in this regard because people might have voted Green because they cared about the climate crisis, not independence. He said the Scottish Greens backed referendum in their manifesto.
He played down the prospects of a clash with Boris Johnson over holding a referendum. He said the SNP did not want to hold one while it was still managing the Covid pandemic, and he pointed out that in his Telegraph interview this morning Johnson said he was opposed to a referendum "in the current context". (See 8.03am.) He went on:
We said that we would have a referendum once we've got the current context of Covid under control, and that's perhaps the point of agreement that we can take forward with the prime minister in due course.
Will Tanner, from the conservative thinktank Onward, says Swinney did not say whether or not the SNP would legislate for a referendum while Covid was still a threat.
He said he hoped a supreme court case would not be needed to decide whether or not Scotland is allowed to hold a second referendum. He said he hoped that Johnson would accept the democratic case for one.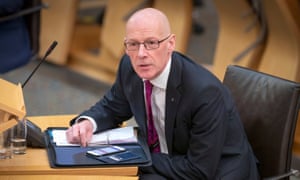 Q: What will you do if Boris Johnson refuses to allow a second referendum?
Swinney says Johnson is not "some overlord". He says Johnson should accept the democratic will of the Scottish parliament.
Q: So that means a court case, does it?
Swinney says that would not be necessary if Johnson accepted the will of the Scottish parliament.
John Swinney, Scotland's deputy first minister, is being interviewed on the Today programme now. Nick Robinson is interviewing him.
Q: Do you accept you won't get an overall majority?
Swinney says it is clear the SNP will be the largest party. It was always going to be "very, very challenging" to get an absolute majority.
Q: Do you accept that if you don't have an absolute majority, you do not have a mandate for independence?
Swinney says he does not. He says what matters is the composition of the parliament.
Q: But what if someone voted Green because of climate change, not independence?
Swinney says independence was set out in the Greens' manifesto.
Good morning. Many of the votes cast on "Super Thursday" are still being counted and today there will be particular focus on Scotland, where the SNP will win – but with its chances of having an absolute majority now looking slim. This is what Prof Sir John Curtice, the leading psephologist, told the Today programme this morning about the state of the contest in Scotland.
There is still a chance but in truth it's a remote chance. It rests on whether or not the SNP can pick up Galloway and Aberdeenshire West, these two Conservative-held marginal seats, but those do look more like a long shot.

And it also depends on whether or not they can pick up a couple of list seats, one in the Highlands and one in the south of Scotland. But they would need to get at least three of those four seats in their lap and the truth is, on the evidence of what we've seen so far, they will be lucky to make it.

So we're probably not looking at an SNP overall majority.

But there will be a majority of pro-independence MSPs, ie the SNP and the Greens in combination.
Unionists argue that, without an absolute majority, Nicola Sturgeon, the SNP leader and Scotland's first minister, would find it harder to claim that she has a mandate to call a second independence referendum. But nationalists argue that what counts is having a majority of MSPs in favour of independence and, as Curtice says, this outcome is certain.
Last night Sturgeon said that, with a majority of MSPs backing independence, it would be "absurd" to argue that Scotland should not have a referendum. She said:
If this was in almost any other democracy in the world it would be an absurd discussion.

If people in Scotland vote for a pro-independence majority in the Scottish parliament, no politician has got the right to stand in the way of that.
But Johnson has restated his opposition to allowing one. In an interview with the Daily Telegraph he said:
My impression was that they [the SNP] moved away from the idea of a referendum, and I think very wisely.

Because I don't think this is anything like the time to have more constitutional wrangling, to be talking about ripping our country apart, when actually people want to heal our economy and bounce forward together. That's what people want.
However Johnson has not categorically ruled out ever allowing a second referendum, and when the Telegraph asked him if it was true that privately he has said he would never sanction one, Johnson just replied: "I think a referendum in the current context is irresponsible and reckless. Let me leave it at that."
Today we are expecting this argument to develop as counting continues in Scotland.
But we are also getting another slew of election results for councils and mayoral contests in England, including the elections for mayors in London, Greater Manchester and the West Midlands, and results are still being counted in Wales.
Here is our results tracker with the results so far.
And you can read our entire elections coverage here.
I'm afraid we're having to launch with the comments turned off, but we should be able to turn them on later.
I try to monitor the comments below the line (BTL) but it is impossible to read them all. If you have a direct question, do include "Andrew" in it somewhere and I'm more likely to find it. I do try to answer questions, and if they are of general interest, I will post the question and reply above the line (ATL), although I can't promise to do this for everyone.
If you want to attract my attention quickly, it is probably better to use Twitter. I'm on @AndrewSparrow.