Bonus harian di Keluaran SGP 2020 – 2021.
Speaking of which… it's routinely the humans who are the problem.
Modern pentathlon: I'm loving this. Not the sport, per se. Not really being a fan of people making horses do stupid things, there's this great (in the circumstances) wrinkle that the pentathlon riders don't bring a horse, they get allocated a horse for the day. So when they try to jump it over fences, they don't have any chemistry together yet.
And watching this round, it is full of horses taking no shit from anyone. Horses refusing to do jumps. Horses turning around and going back the way they came. Horses just resolutely ploughing through fences, knocking the railings down one after another. It is penalty city out there, and I'm all for it. Horse expression hour.
Phew. Time to take a breather and read about Tom Daley's second medal of these games.
Handball: Bronze for Spain in the men's handball, holding off Egypt to finish 31-33.
Rhythmic gymnastics: The score takes minutes and minutes to come in… and it's 24.000! A brilliant score, the highest in the ribbon apparatus, but just short by 0.150 for gold. Israel take the medal ahead of Russia.
An utterly brilliant final. The quality was so good, throughout. The competition was intense. Ashram set the standard through the first three rotations, then looked to have fumbled the fourth. Dina Averina had to deliver under intense pressure in the final routine of the night, and did so. And it still wasn't quite enough.
Harnasko takes bronze, with Dina's sister Arina coming in fourth.
Rhythmic gymnastics: Perfect from Dina Averina. Power, grace, timing, not a single false move. What a beautiful performance.
Her music was La Cumparsita tango. Her work matched the drama and emotional intensity note for note.
Rhythmic gymnastics: Alina Harnasko moves into the medals for Belarus, into second spot now. And now Dina Averina will decide the final standings.
Rhythmic gymnastics: Here is the moment. Linoy Ashram can seal the gold if she gets through her routine without penalties. This is the ribbon. She has gone with a very Israeli approach, as opposed to her previous routines, having changed into a very blue and white costume for this final apparatus, and is using a dance version of Hava Nagila. She launches into things with full enthusiasm…
but there's a drop. Just one, but that's all it takes when separating the top two performers. The handle of the ribbon slips from her hand, on one pass.
She doesn't know what to think afterwards. She has done so well today. Top score in every previous round. She beams and laughs and cries a little bit, all at the same time. Has the gold slipped away?
Or not? She scores 23.300!

Dina Averina will need 24.15, a huge score, to match her.
Handball: Very tight in the bronze men's match, Spain leading Egypt 27 to 26.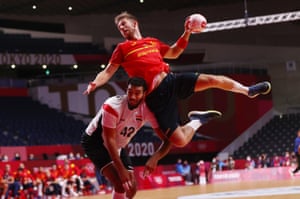 Rhythmic gymnastics: Oh, poor Onopriienko. She gets a penalty on her final routine for the apparatus going outside the permitted area. Looks very deflated, but still summons some smiles as her Olympic final comes to an end with a 19.700. Her Ukraine compatriot Khrystyna Pohranychna does better with 21.600 with an extremely hyperactive Balkan-style backing track.
Three gymnasts to come, including the two vying for gold.
Cycling: A real sprint on the final lap by Ethan Hayter to come through to the line, matching France on 40 points, but passing them into the silver spot by virtue of a better position on that last lap. Denmark could take it a bit easier, having already locked up gold with so many sprint points. France in bronze, and the long, long work of the 200 madison laps comes to an end.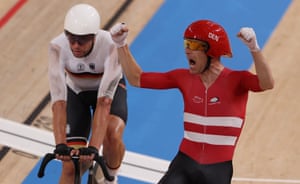 Madison gold: The winner gets 10 points, as well.
Madison gold: Denmark 41, France 36, Great Britain 30, inside the last 10 laps.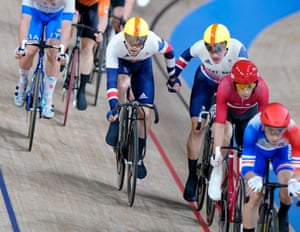 Madison gold: Denmark pick up three points at the 20 laps to go mark! Out to 39 now. Can't lose a medal, and they're four points clear of France. GB third on 27, and also picked up a warning a few laps ago, I didn't clock what for.
Madison gold: Only France out of the top three picks up points with 30 laps to go. They go to 35. One behind the Danes. Three sprints to go.
Madison gold: The Germans have crashed! Or one of them, anyway. Not sure if they're getting back into the race. Several teams have dropped out already: Australia, USA, Ireland, Canada. The field has thinned, a bit less chaotic.
Inside 40 laps to go, Denmark have 36 points, France 33, Great Britain 26. The Brits need to win a couple of the remaining sprints and they're a chance.
Rhythmic gymnastics: Wow. The ribbon can be the most fickle apparatus, and it has done for Arina Averina here. One of the favourites, the Russian scores only 19.550 and that could drop her out of the medals. She looks very unhappy with her routine as she came off, even before the scores came in.
Madison gold: France dominating now as they take the sprint with 60 laps to go. They have 32 points to Denmark's 28 and Great Britain's 24.
Basketball: France win bronze in the women's b-ball over Serbia, 91-76.
Modern pentathlon: Oh, this brilliant stuff is back on. They're doing the jumpy horse bit. This is the sport where you have to shoot a gun, ride a horse… paint a watercolour, make a scone, and give a dramatic reading of The Rime of the Ancient Mariner. The flowering of modern manhood (as per the end of the Austro-Hungarian empire).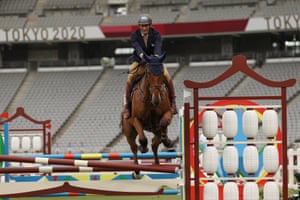 Madison gold: Great Britain drop to third. Denmark 25, France 24, Great Britain 23. We have 77 laps to go.
Madison gold: France wins the sprint with 90 laps to go, taking five points. Denmark second with three, Great Britain third with two. The latter two teams share the lead on 22 points, France on 19.
Rhythmic gymnastics: Dina Averina lodges 28.150. So she's 0.850 behind Ashram in second place, leading into the ribbon rotation. This will be the fourth and final part of the event tonight. Arina Averina is third, Alina Harnasko fourth for Belarus.
Cycling: Great Britain have gone to the top of the leaderboard in the men's madison: 18 points to Denmark and France on 14. We have 103 laps to go.
Rhythmic gymnastics: Linoy Ashram is blazing tonight! She produces another stunning routine, this time on clubs, and using a Beyoncé medley for good measure. Israel's gymnast had the best score in hoop, equal best in ball, and the best in clubs so far with two gymnasts to come. Scores 28.650.
Dina Averina is yet to perform, but she's now 29.000 behind, surely too much to make up in one routine. She'll need to be perfect here and would still need to hope for an Ashram mistake on ribbon.
They blew Spain out of the water early, and never let them back in. They win 5-14, and that's three gold medals in a row for the US in this event.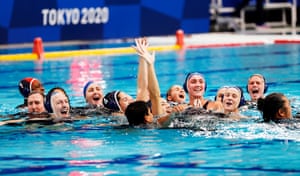 Rhythmic gymnastics: Viktoriia Onopriienko is my MVP of this event. She's not being scored very high and I don't know why, because I'm not a gymnastics judge. But – she's had a great sense of humour in her work. Does her clubs routine to AC/DC Back in Black, wearing an all-black sparkly outfit and having fun with it. Scores 26.100 and gets up to fourth spot for the time being. More usefully, she's ahead of two others who have done three apparatus so far.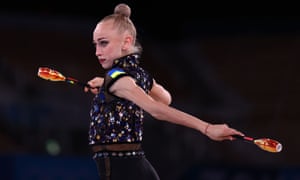 Cycling: The cute thing about the madison is how the riders sometimes stop to hold hands for a little while. I love you too, bro.
Cycling: France has 10 points on the leaderboard so far. Great Britain has five.
Cycling: How does the madison work? Look, I'm not really sure. It gets raced over 50,000 metres – yes. That's 200 laps of the velodrome. Two riders per team, ten teams, a sprint every ten laps, points for those sprints, and points for other things. Basically it looks like a hot mess on the track, with riders all over the place, and we've already had one fall but the rider was quickly back on the bike.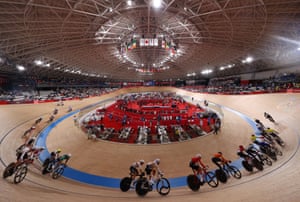 Basketball: Into the third quarter in the women's bronze match, and France leading Serbia 51-60.
Water polo: The USA pulling away as time ticks down in the third quarter, the score is 4-10 over Spain.
Cycling: The men's madison gold is coming up, having missed the last couple of Olympic Games programmes.
Handball: 2-2 in the grudge match, the old rivalry, the bronze medal bout between Egypt and Spain. Big night in the team sports for Spain: this match, the water polo, and the men's football final later.
Rhythmic gymnastics: Arina Averina has asked for a judges' inquiry into her score, and I think has succeeded in having the degree of difficulty altered. Her score for the clubs rotation is raised to 27.800. A very good score. For comparison, Anastasila Salos for Belarus is next and scores 24.950.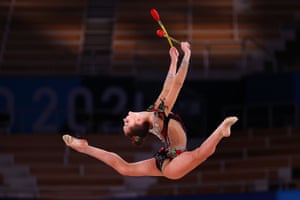 Water polo: Get in there, you Spaniards. It's 4-7 now, the water polo juices are flowing.
Water polo: Ooh, make that three for Spain! And a huge fist pump into the bargain.
Water polo: Spain finally score a second goal. Sadly for them the USA have six.
Rhythmic gymnastics: We're onto clubs, where the first gymnast Arina Averina turns out to Bella Ciao – the Italian partisan's song that was used to such great effect in the Spanish TV show La Casa de Papel.
She's very unhappy at the end of her routine though, obviously doesn't feel that she nailed it. Scores nearly a point lower than she did with that routine in qualifying.
Rhythmic gymnastics: Dina Averina is the last competitor with the ball, and she scores a 28.300 after a routine with a supremely elegant beginning, set to Tchaikovsky. She goes up into second spot, ahead of her sister Arina by three quarters of a point, but trailing Linoy Ashram by 1.350. Innnteresting.
Water polo: The women's gold match is into the second quarter, and the good ol' US of A are making the early running. They're up 4-1 over Spain. Plenty of dodgy stuff going on under the water, in classic polo style.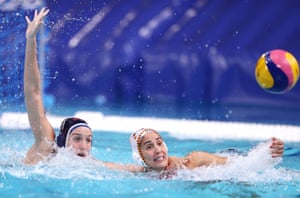 Rhythmic gymnastics: A great routine from Linoy Ashram. She uses Big in Japan by Alphaville, a song that starts slow and melancholy, then builds up the pace, and she matched that crescendo in her routine. Scores 28.300 and goes back to the top of the board, passing Arina Averina.
Rhythmic gymnastics: Also a much better tracklist than most sports. The last two routines from the two Ukrainian competitors have used Smooth Criminal, then Toxic by Britney. Never a bad time for it.
Rhythmic gymnastics: This is one of the quintessential Olympic sports where you start off asking why people would do this, then quickly end up staring at the screen asking how in the hell people do this. Most of us couldn't even throw a hoop 20 metres in the air and then catch it. Ok, now catch it unsighted, with your foot, while doing a cartwheel.
It is genuinely phenomenal what these athletes do.
Diving: Cau Yuan the last competitor, and he just holds off his China teammate with the final dive of the day. A lower degree of difficulty means he can't score as high, but he pulls off a near perfect dive nonetheless, back 2 and a half somersaults with 2 and a half twists, and it scores 102.6.
Enough for gold with 582.35 across his six dives, Yang so close behind with 580.40, demanding a hundred-plus dive from Cau. Daley in third tallies 548.25.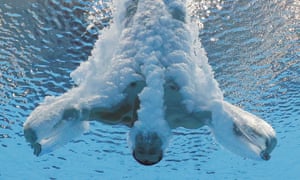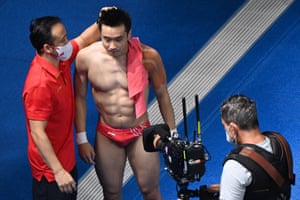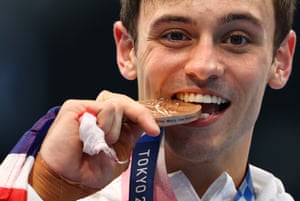 Diving: Yang Jian lands a monster score with the second-last dive of the day: 112.75 his mark! Forward 4 and a half somersaults with pike. Degree of difficulty 4.1, and almost no splash at all.
Diving: Tom Daley for Great Britain goes top with his final dive. A beauty. Still a few divers to come, he won't finish with gold but he's in contention for the dais.
His dives today:
98.60
91.20
91.80
80.50
94.35
91.80
Just that one slip on the fourth dive cost him.
Diving: We're at the business end of the men's 10 metre final. Some have completed their six jumps, some have one more to come. Australia's Cassiel Rousseau nails his highest score of 88.80 on his final dive. Isn't in medal contention, but that's a good comeback after he didn't land his first couple of dives.
Rhythmic gymnastics: We've had the first apparatus, which is the hoop, and now we're onto the ball. Linoy Ashram of Israel led out of the hoop stage, with the Russian Averina sisters – Dina and Arina – second and third.
In the next five hours that are my domain, here's where I'll be looking. Times in Tokyo.
Right now: the diving gold for the men's 10m platform and the rhythmic gymnastics all-around gold are both on.
4:30pm: Women's water polo gold between Spain and USA
4:55: Cycling, the madison men's gold
5pm: Handball men's bronze, Egypt and Spain men's bronze
5:15: Men's modern pentathlon equestrian
7pm: Baseball gold, USA and Japan gold
7pm: Equestrian gold, team jumps gold
7:20: Karate – the kumite (combat) medals begin
7:30: Artistic swimming gold – team freestyle
7:30: Wrestling medals begin
7:30: Modern pentathlon gold – the men's laser run
7:35: High jump women's gold
7:45: 10,000 metres women's gold
8pm: Javelin men's gold
8pm: Basketball men's bronze – Australia and Slovenia
8:30: Football men's gold – Brazil and Spain
8:40: 1500 metres men's gold