Info seputar SGP Hari Ini 2020 – 2021.
Cycling: Jason Kenny has been talking to Eurosport following his elimination from the men's individual sprint. "It was really tough," he tells their pit reporter Bradley Wiggins. "I am disappointed but I've not got some kind of mad ego that can't accept I'm not going to be the best in the world every single day of the week.
"It's just one of those things. I'm not where I want to be, I'm not as competitive as I want to be and I just have to accept that. I have been scrapping, trying to get as far as I can in the hope of getting some silverware but it just wasn't meant to be today."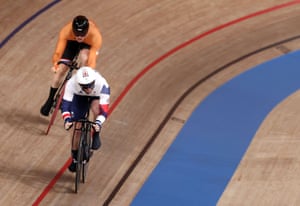 Kon'nichiwa everybody. So, another gold in the bag for Team GB, after a splendid ride in the omnium, while in the boxing ring, flyweight Galal Yafai has guaranteed himself a silver or gold by qualifying for the final against Carlo Paalam of the Philippines. Britain's Liam Heath has won a medal, taking bronze in the Olympic kayak.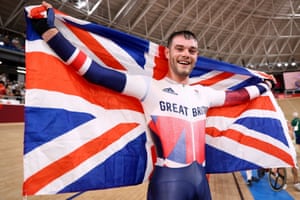 Matt Walls speaks: "I managed to get a good lead coming into the end, came into that points race with a lead that gave me a bit of breathing room. Yeah it was a good race. As for all his nearest and dearest back home in Oldham: "Thank you to all my family and friends, I wouldn't be here without them, supporting me when I was growing up and travelling round the country racing. Have fun!"
And with that, I'll hand the baton over to Barry Glendenning. Bye.
Cycling: Walls's early cushion proves decisive, enabling him to put in a commanding composed ride to ensure top spot on the podium. Viviani, the Rio 2016 champion, is pipped to silver by a stunning ride from Campbell Stewart of New Zealand with a brilliant late effort in the sprints. Viviani takes bronze.
Cycling: It starts well for Walls in the omnium, and he picks up 20 points for gaining a lap with 80 remaining (as well as five for the sprint). This gives Walls breathing space to ride a controlled race. He's 27 points ahead, on 139, after four sprints.
Football: It's now 4-2 to the USA against Australia, Carli Lloyd adding the Americans' fourth and Foord getting one back for the Matildas.
Cycling: The final, 100-lap points race in the men's omnium is under way, with Matt Walls well placed for gold.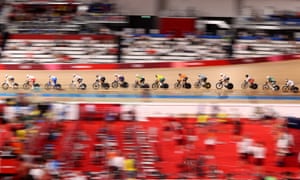 Showjumping: A blow for GB as Scott Brash and his horse Jefferson will not be part of the bid for a showjumping team medal, PA Media reports. Team GB said that Jefferson suffered a minor strain during Wednesday's individual final, when Brash finished equal seventh. The newly-crowned Olympic individual champion Ben Maher will spearhead the team's challenge on Explosion W, being joined by Holly Smith and Denver, while Harry Charles now completes the trio aboard Romero 88.
Cycling: Nicholas Paul was sanctioned for straying fractionally from the sprinter's lame in his second best-of-three men's sprint race against Denis Dmitriev of Not Russia. So it's 1-1 and they go to a decider, in which Dmitriev wins but he too might have infringed for getting too close and overlapping Paul's wheel, almost bringing him down. It's being checked, and Paul might yet go through here.
Cycling: Brilliant, dominant ride from the Dutch rider, with Ellesse Andrews of New Zealand snatching silver and Canada's Lauriane Genest taking bronze.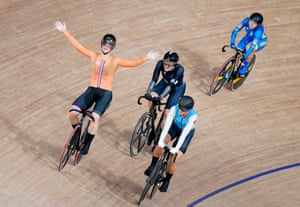 Time for a roundup of some of today's main developments:
Britain's 4x100m women have set a national record in their heat, with Dina Asher-Smith targeting redemption for her individual sprint disappointments. The men have a glimpse of a medal too, advancing in second behind Jamaica as the USA crashed out.
Massimo Stano of Italy has won the men's 20km walk race. He's followed home by Yamanishi Toshikazu and Ikeda Koki. There was a creditable top-10 finish for Britain's Callum Wilkinson.
The British flyweight Galal Yafai is through to the final where he will face Carlo Paalam of the Philippines in the final.
Britain's Liam Heath has won Olympic kayak bronze.
China's Quan Hongchen won gold in the women's 10m diving
Cycling: Carlin through, Kenny out. Jason Kenny is out in the men's sprint quarters – he set the pace in his second best-of-three contest with Harrie Levreyson before getting reeled in on the final bend. Levreyson's Dutch compatriot Jeffrey Hoogland is also through. In the third heat, there's better news for GB as Jack Carlin records a magnificently controlled victory over Maximilian Levy of Germany, forcing his opponent out to the top of the track and denying him an opening before kicking for home in style. In the final quarter-final Nicholas Paul of Trinidad also advances.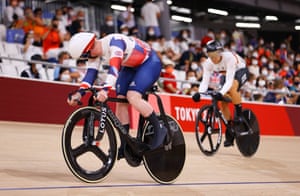 Football: in the carefree spirit of third-placed play-offs, the goals are flying in in the women's bronze medal match, with three in the first 21 minutes. The USA lead Australia 2-1, with Megan Rapinoe scoring twice.
Wrestling: There's been an upset with the USA's Gable Steveson stunning the Rio champion Taha Akgul of Turkey in the quarter-finals of the men's freestyle super heavyweight category on Thursday, Steveson winning 8-0.
Athletics: More on that KJT statement:
I don't know where to begin in trying to explain how I feel. Only a handful of people understand what I have been through. An even smaller amount understand the mental and physical challenges I've faced trying to make it back in time through a pandemic after my Achilles rupture at the back end of December.

To make it to the line was a miracle, not only to do that but to be on my way to putting a decent score together is heartbreaking. I truly believed I was capable of winning a medal despite having up to half a year of missed training.
Cycling: Brilliant from Matt Walls in the gruelling men's omnium elimination race, with its multiple sprints and last-rider eliminations. Walls stays composed and in the pack but gets himself boxed in for a while before hitting the front for a spell after the ninth sprint. Walls' rival Larsen is out after sprint 13, and Walls himself survives a scare on sprint 15 but pips Benjamin Thomas and sends the Frenchman out. Walls hits the front with three riders remaining, and takes on Viviani in the last two, who takes the race with Walls second. This puts the British rider in the gold medal position. Cracking race, that.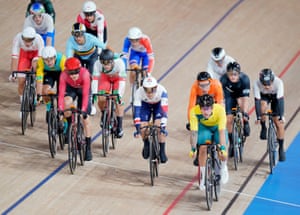 Cycling: In the women's keirin semi-final, the world champion Emma Hinze of Germany has missed out, trailing in last in a race won by Shanne Braspennnincx of the Netherlands. The Canadians Kelsey Mitchell and Lauriane Genest of Canada and the Russian Daria Shmeleva advanced behind here
Football: Australia and the USA are about to start their women's bronze medal match, and Emma Kemp is describing it in detail here:
Cycling: Jason Kenny's reign as men's individual sprint champion looks near to the end as Harrie Levreyson pips him in the first race of their best-of-three quarter-final, despite a strong late charge from the British rider. The old order changeth as the Dutch dominate. In the first heat Jeffrey Hoogland of the Netherlands won from France's Sebastien Vigier. Better news for GB comes in heat three as Jack Carlin brilliantly steals the lead on the last lap, beating Maximilian Levy of Germany.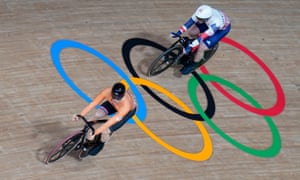 Boxing: Britain's Galal Yafai is guaranteed at least silver after making it into the final of the men's flyweight category after a narrow points win over Saken Bibossinov in a three-round firefight. Barney Ronay has more
Cycling: In the men's omnium Van Schip of the Netherlands tops the leaderboard in the draining tempo race with Benjamin Thomas of France and GB's Matt Walls third and well in contention.
Athletics: Katarina Johnson Thompson has released a statement about her injury struggles that derailed her heptathlon medal bid: "I don't know where to begin to explain how I feel, I'd started the year in a wheelchair so was not willing to end my Olympic campaign in the same way. More than ever I'm proud I showed up and put myself out there and tried … It will take a lot of time for me to process this reality." More on this later
Athletics: Some serious fallout from the USA men's relay team's earlier failure, with none other than Carl Lewis letting rip:
The USA team did everything wrong in the men's relay. The passing system is wrong, athletes running the wrong legs, and it was clear that there was no leadership. It was a total embarrassment, and completely unacceptable for a USA team to look worse than the AAU kids I saw.
Fancy a bit of arty Olympic photography? Then savour this gallery of Tokyo 2020 in sunshine and in shadow:
Cycling: in the men's sprint repechage, a composed ride from the front by Jason Kenny takes him through.
Diving: Quan Hongchen takes women's 1om platform gold! The teenage Chinese diver had established an unassailable lead and wins from her compatriot Chen Yuxi, who takes silver. China have now won six of seven golds in the diving this year. A brilliant final dive gives Australia's Melissa Wu the bronze. Wu's bronze medal is her first individual medal at her fourth Olympics, after she won silver with Briony Cole in the 10m synchronised platform event at the 2008 Beijing Games.
Boxing: The Not-Russia boxer Albert Batyrgaziev has won men's featherweight gold, holding off a late charge by the USA's Duke Ragan to take the title. The 23-year-old Russian southpaw won on a split 3–2 decision.
Thanks Scott, and a cycling blow for GB in the velodrome, with Katie Marchant crashing out in the women's keirin quarter-finals after a collision with the Dutch rider Lauren van Riessen. "Wrong place, wrong time, Marchant tells the BBC, but she has escaped largely unhurt while Van Riessen receives treatment on the track.
Women's 10m platform final: is it possible to improve on perfection? Probably not but Chinese teen Quan Hongchan is giving it a fair old go. The 14-year-old is soaring (and descending) towards a gold medal, having almost executed another Perfect 10 with her fourth dive.
With that, I'll hand you over to Tom Davies. Thanks for your company. See you tomorrow.
Women's 10m platform final: another devastatingly precise dive from 14-year-old Chinese Quan Hongchan, who third time around very nearly pulled off another perfect score. Hongchan is out on front, with countrywoman Chen Yuxi sitting second and Australia's Melissa Wu clinging onto the bronze medal position.
The athletes get all the recognition at the Olympics, and rightly so, but an enormous amount of work goes on behind the scenes to make the Games the fortnight of fun, frivolity and fanfare that it is.
Take it away, Samantha Rajasingham:
Randomly woke up early and now watching skateboarding to start the day. Can we just give a shout-out to the studio director for the skateboarding park finals? The way they kept the sense of flow and the overall sense of space was everything for sport that benefits when you get a sense of the geometry and physics at play! Tldr… thanks director! You were awesome, as were the skatepark camerapeople.
Well said, um, written, Samantha.
In case you missed it, Keegan Palmer won men's park skateboarding gold on another big day for Australia.
Women's 10m platform final: Quan Hongchan, the 14-year old from China, is the diver to beat after executing a perfect inward 3½ somersault to shoot to the lead after two dives. Australia's Melissa Wu is right in the thick of it after commencing with two superb dives. An elusive individual Olympic medal could yet be hers.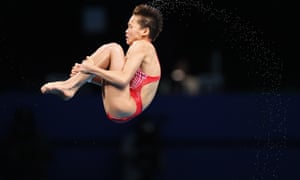 Women's heptathlon: Belgian Nafissatou Thiam, the gold medalist in Rio five years ago, surged to the lead after taking out the long jump and javelin events earlier today, but her lead is a slender one with just the 800m remaining tonight. Team GB's highly ranked Katarina Johnson-Thompson is out of the event after a day to forget yesterday.
Nafissatou Thiam (BEL) – 5912 points
Anouk Vetter (NED) – 5848 points
Kendell Williams (USA) – 5642 points
Emma Oosterweggel (NED) – 5641 points
Noor Vidts (BEL) – 5592 points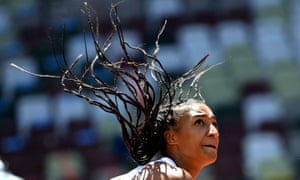 Men's basketball: If Team USA were lacklustre in the first half against Australia they were utterly dominant after half-time. It was a brutal show of strength by the best team on the planet. A 16th Olympic gold beckons.
Men's decathlon: not much change at the top following the conclusion of the eighth event – pole vault – earlier today, with world champion Kevin Mayer still out of the medal positions with just javelin and 1500m to go.
Damian Warner (CAN) – 7490 points
Ashley Moloney (AUS) – 7269 points
Pierce Lepage (CAN) – 7175 points
Kevin Mayer (FRA) – 7129 points
Garrett Scantling (USA) – 7026 points
More on the mysterious case of Belarus sprinter Krystsina Tsimanouskaya.
Men's basketball semi-finals: Team USA are through to the gold medal match after beating Australia 97-78 in the semi-final. The Americans took everything the Boomers could throw at them, coming from 15 points down in the second quarter to win with ease in the end.
Australia really did dominate much of the first half, taking a 45-42 lead into the long break, but the reigning Olympic champions lifted both offensively and defensively in the second half, putting the game to bed with a 32-10 third quarter. Kevin Durant (23 points) and Devin Booker (20 points) were standouts for Team USA, while Patty Mills had 15 points and eight assists for Australia.
So Team USA march onwards to another Olympics decider – against either Slovenia or France – where they will be shooting for a 16th men's gold medal and fourth in a row. More heartbreak for the Boomers but they will still have a chance to win a first Olympic medal in the bronze medal encounter.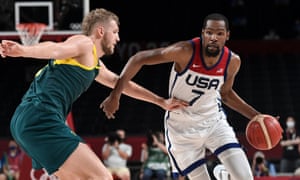 Men's basketball semi-finals: baskets are coming a little easier for Australia now after that wretched third quarter. But the game has opened up and they continue to come easy for Team USA. The Americans hold a seemingly insurmountable 86-68 lead and have called a time-out following a Patty Mills three-pointer with 5.23 remaining in the game. Kevin Durant (23 points) has mostly been rested in the fourth quarter but Devin Booker has picked up the slack to register 20 of his own. Too good, USA, too classy.
Time now for a quick round-up of Team GB action so far today, to service those readers just waking up.
Athletics: Britain's 4x100m relay women ran the fastest ever heat at an Olympics – and set a national record in the process; the men's 4x100m team are through to the final; Andrew Pozzi finishes seventh in the 110m hurdles final
Canoe sprint: Liam Heath won a bronze medal in the K1 200m
Coming up: Galal Yafai goes for boxing gold in men's flyweight final; track cycling continues; and Tom Bosworth is in the 20km race walk
Men's basketball semi-finals: Team USA have tightened up defensively, denying the room to move Australia had in the first half, and the Americans take a 74-55 lead into the final break – a remarkable 34-point turnaround after the Boomers led by 15 points during the second quarter. USA's entire game has improved, breaching Australia's defensive zone with increasing ease and now killing it on the outside – after missing their first nine three-pointers they are now 6/21 from the perimeter.
That was a 32-10 third quarter by Team USA. An incredible flexing of muscle. Devin Booker outscored Australia on his own in that stanza.
These are the Tokyo Olympics. They are also the Lisa Carrington Olympics. Take a bow, GOAT in a boat.