Promo menarik pada undian Data Sidney 2020 – 2021.
Shooting:Those of us old enough to remember Malcolm Cooper won't be surprised that GB have won a shooting bronze, courtesy of Matt Coward-Holley.
Rugby sevens: What a match! What a comeback from NZ! From 21-0 down, they stormed back to win 26-21 and it'll take a special effort to stop them seizing the gold. But that was a really good effort from GB, a team thrown together a few months ago, and they'll know that if the they meet again, they've got a proper chance.
Rugby sevens: NZ get it wide and because GB are down to six, Michaela Blyde is unmarked! She eases onto the gas and she's gone! The conversion goes over, and NZ lead 26-21 with one play to come!
Rugby sevens: This is extremely nervy now, GB still with a two-point advantage as time ticks; there's just over a minute to go … but Joyce tackles Woodman high and is sent off! GB will have to see this out with six!
Tennis: Djokovic leads Nishikori 4-2 in the first set, while Carreno Busta took his against Medvedev 6-2. He's had better weeks.
Badminton: Antonsen accelerated away from Penty to win the second game 21-15. The number three seed moves into the semis.
Rugby sevens: We away again, and this should be a serious half … and here come NZ already, a try under the posts, converted, giving us 21-19. GB are rocking!
What a Games the hosts are having!
Badminton: Antonsen looks to have just that bit too much for Penty, leading 19-15; he's two points away from the semis.
Rugby sevens: Now then. Blyde streaks away and scores under the post; NZ have woken up, and Blyde scores again, but in the corner! Thie conversion his the upright, but at half-time GB lead 21-12 and we are cooking!
Rugby sevens: GB are all over NZ, and Jones goes over for Aitchison to convert … and as I type that, Joyce screeches through a gap, under the posts, and what a start this is! Aitchison sticks the kick beteween the posts, and the highly-fancied Black Ferns trail 21-0!
Those unfamiliar, click here.
Rugby sevens: GB work the ball off the back of the scrum, spread wide to Rowland, and she staggers over the line then sticks a try under the posts. Through goes the conversion, and that's 7-0!
Badminton: Penty is staying with Antonsen in game two, trailing 12-11.
Rugby sevens: New Zealand and Great Britain are out, both sides taking a knee before we get going.All black lives matter, people.
Swimming: We mentioned Caeleb Dressel earlier, but what a performance from Australia's Kyle Chalmers to nab silver.
I had shoulder surgery seven months ago," he said. "I've had 12 cortisone injections in my left shoulder just to get to this point. I've had PRP [platelet-rich plasma therapy] twice … I've had ankle problems, I've had three facet-joint epidurals in my back. I've had cortisone in my right shoulder. I've had three heart surgeries. And that's just the physical side of things."
Rowing: Incredible scenes from the regatta earlier, where Paul O'Donovan and Fintan McCarthy won Ireland's first Olympic rowing gold.
Rugby sevens: In six minutes, we'll have NZ v GB, while USA have just seen off Japan 17-7 and beat China 28-14 earlier.
Tennis: Nishikori v Djokovic is underway – imagine a capacity crowd for that one – likewise Medvedev v Carreno Busta. The men are playing last eight, while the women have already established that Bencic will meet Vondrousova or Svitolina in the final.
Badminton: Goodness me, these lads are hot, Antonsen in particular – you can see your face in his shirt. But he won game 1 21-10 and Plenty has it all to do. As I type that, our commentators note their surprise that Antonsen didn't change at change of ends, but maybe the wetness is cooling him down.
"I don't usually watch volleyball," tweets Justin Horton, "but is it normal in that sport to play snatches of rock music between points? Maybe this is just me getting older but it's outstandingly, incredibly annoying."
It's not how sport's embedded in my psyche either, but ultimately I think my sentiments are governed by the choice of tune. I'll never not want to hear Adagio For Strings, even if watching judo on a Thursday morning isn't where I'd normally expect to welcome it.
I've got so many screens going I've not a clue where this is coming from, but someone, somewhere, is playing this:
I like to think it's coming from the judo, held at Budokan where Bob Dylan once played, and turning down a succession of volumes confirms that it is.
This is really important, but just so no one misses it, here's the key line courtesy of the IOC's medical and science director Dr Richard Budgett:
Everyone agrees that trans women are women".
The stress of the Olympics x the stress of corona x the stress of this. Oof madone.
Badminton: Toby Penty of GB is underway in his round of 16 match against Antonsen and trails 10-7.
This is great: Jess Fox, the new Olympic gold medalist, trains during lockdown.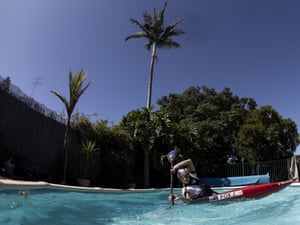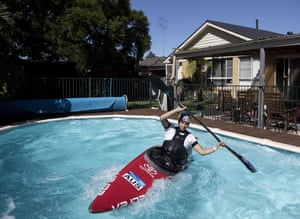 Tennis: We're meant to be unbiased here, but it's so hard not to root for Svitolina. What a honeymoon this could be!
Tennis: Bencic beats Rybakina 7-6(2) 4-6 6-3! Her hand goes over her mouth, her eyes well with tears, and she's guaranteed a silver medal! On top of which, she'll fancy herself against whichever of Vondrousova and Svitolina she meets in the final, just as they will against her.
"Emil Zatopek was indeed an exceptionally hard-working Olympic champion," says Rob Marriott. "But I'd like to put forward Paavo Nurmi: in 1924, he won the 1500m, and the 5000m started less than two hours later – allegedly a plot to stop Nurmi winning both – and he won that too.
The following day was easy, he only ran (and won) a 3000m semi-final. The day after that, he entered the 10km cross country event; temperatures reached 45°C, the course circled a power plant which pumped out fumes right across the route, fewer than half the runners reached the end, and the Red Cross had to be called in to find missing athletes who'd collapsed somewhere along the way. Nurmi won that too, by more than a minute (and in doing so also won a team gold for Finland). Next day, Nurmi had the 3000m final, which he also won.
Great credit also goes to Nurmi's compatriot, Ville Ritola, who finished second in three of those events, only skipping the 1500m. And Ritola had already won the 3000m steeplechase and 10000m earlier in the week. Now those are some hard-earned medals."
Not bad. I remember the BBC made a brilliant doc about the 1500m and the different ways the greats trained to do it. I think Nurmi ran long distances, so the shorter one would seem easy, through to Coe, who ran 400m, rested briefly, then did it again and again.
Rugby sevens: And that's how it finishes. Australia beat China 26-10 tow make it two wins from two – they beat Japan 48-0 earlier – and coming up in 40 minutes or so, we've got GB v NZ, both of whom also won their first match.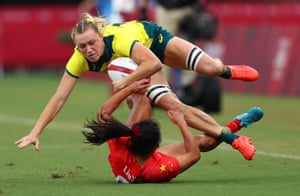 Rugby sevens: China have just scored a second try and now trail Australia 26-10.
Golf: McIlroy and Fleetwood both dropped shots late in their rounds, so McIlroy is in the clubhouse on -2, Fleetwood on -1. Morikawa, the new British Open champ, is also -2, while Straka still leads on -8.
This has some of my all-time favourite Olympic action: the boxing from 1988 in Seoul.
Tennis: Khachanov beats Humbert 7-6(4) 4-6 6-3! He meets Carreno Busta or Medvedev in the last four.
Rugby sevens: Australia lead China 12-5 at half-time.
I love this photo, which makes Ellen White look like she's got four arms, even if the actual kit looks like it needs a bang on top to get the colours sharp. I have also learnt this week that one of Lucy Bronze's middle names is Tough.
Here's our report on Fox's brilliant gold and Franklin's nifty silver.
Talking of rugby sevens, I really enjoyed this.
Rugby sevens: Time's up. A lovely team try from Australia, finished by Williams under the posts, means a simple conversion and a 7-5 lead.
Rugby sevens: Australia and China women are just underway in their pool match and as I type that, the latter's Yang has just taken a tap penalty and flown over in the corner for 5-0. Earlier, France whacked Brazil 40-5.
Tennis: Khachanov has broken Humbert for 4-1 in the decider, while Bencic has broken Rybakina back for 2-2. Later, we've got Djokovic v Nishikori, Svitolina v Vondrousova, Carreno Busta v Medvedev and Zverev v Chardy. Don't mind if we do.
Back to that Australia athletic situation, three members of the team – I don't know which – were in close contact with Sam Kendricks. They've tested negative for corona, but are still isolating.
"Have been following your and your colleagues' reporting from home in Nairobi," emails Jean Newbery, "but haven't seen the badminton mentioned once! Some thrilling games going on, including the red-hot home favourite Momota being knocked out in the men's singles! Toby Penty is playing for GB later but will have a tough time against Antonsen. Hope you can keep an eye on it and update us!"
Absolutely – I can confirm Penty's match, scheduled to start in roughly 15 minutes, is on the list sitting on my desk, made in a bid to make sure I don't miss anything good.